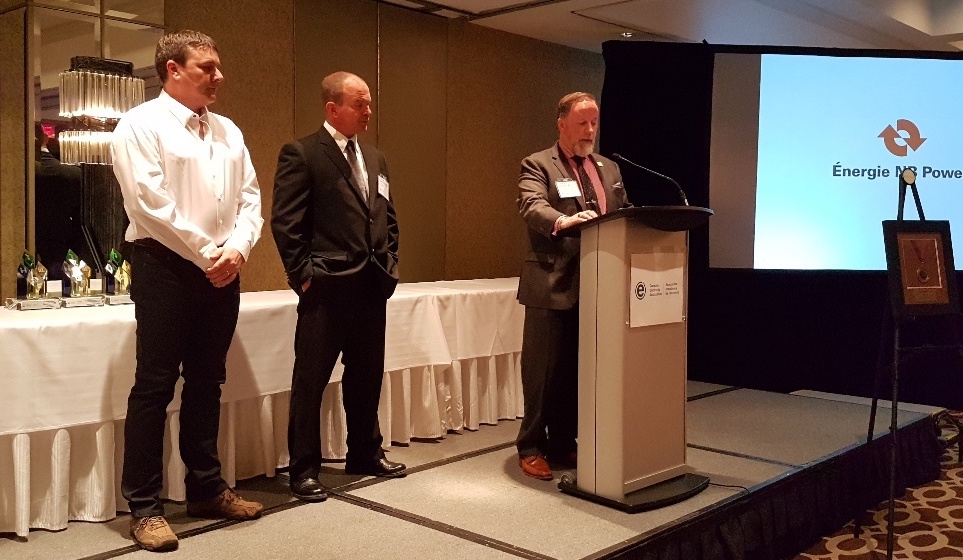 Two members of IBEW Local 37 were recently honoured for their quick thinking and action in two separate life-threatening situations.  Both were presented with Canadian Electricity Association (CEA) Lifesaving Awards at the CEA's Annual Awards Ceremony held in Toronto on November 15, 2017.
Keith Whitebone, a Supply Maintainer at the Point Lepreau Nuclear Generating Station, was recognized for his critical role in rescuing an elderly woman found upside down in her vehicle, on its roof, and in a ditch full of knee-deep water. Keith and his coworker were returning to the Station after making a delivery when they came across a man waving for help. Once stopped, Keith jumped from the passenger seat to and rushed to the car to help. He used a rock to smash the back window and then crawled inside where he could use a jack-knife to free the woman from her seatbelt and pull her to safety. Keith waited with the woman, comforting her until emergency responders arrived on the scene. Undoubtedly, without Keith's quick thinking and selfless response, the outcome could have been a tragedy.
Trevor Munn, with Meter Services at NB Power, received the Lifesaving Award for using his first-aid knowledge to save the life of a fellow employee who was choking. When Trevor recognized that his co-worker was choking, he sprang into action quickly and put his first-aid skills to work and dislodged the obstruction.  A precious life was saved with Trevor's ability to recognize the emergency and his willingness to help.
IBEW Local 37 is extremely proud of Keith and Trevor. It takes considerable courage to help others in distress. These two men certainly are deserving of an award that recognizes both their courage and swift action. Congratulations Keith and Trevor!
SaveSave
SaveSave