March 19, 2020
Dear Members,
I want to take a few minutes of your time to check in and give you an update, as we all do our best in these uncertain times.
Most importantly though, I hope you and your loved ones are all doing okay.  We're enduring so many changes that it's completely expected to be left with questions and concerns about a lot of things. And while I certainly don't have all the answers, I hope you'll find this update, and those that will follow, to at least be a little helpful.
By now you've often heard that we're in unprecedented times.  And the fact is, we are in a public safety crisis, with New Brunswick joining several other provinces in declaring a state of emergency.  Although we haven't been hit hard yet, it's inevitable that we are going to see some significant effects.  Therefore, this is not a normal situation with respect to regular work practices, especially now that a state of emergency has been declared.
As this situation continues to evolve, employees may be asked to perform tasks they don't usually perform (within the limits of their safety, training and skill).  Having a high level of flexibility, communication, and cooperation will be beneficial to all as the public emergency goes on. There is no doubt that we will all need to employ a certain amount of flexibility while we deal with this situation, but we'll work through any issues that arise.
I also want you to remind that although the IBEW Local 37 office is closed to the public and our members, we remain committed to continued communication and support of our members and their families. We are available via email and telephone. All mailboxes will be monitored regularly. If you have questions, need to talk to someone, anything – please don't hesitate to reach out. We're here for you.
In addition, all IBEW Local 37 meetings, events, and other activities will be postponed or adjourned.  Alternative measures for meetings such as conference calls, video conferencing, group texts and e-mails have been put in place so the business of Local 37 can continue, and to ensure we can deliver information to our members in a timely manner.
It's so important to remember that in this time of uncertainty, the best information comes from the experts including New Brunswick's Office of the Chief Medical Officer of Health, Health Canada, the World Health Organization and your physician. You can also visit www.ibew37.com as source for updates and useful information about your union.
And please continue to take all necessary precautions even if you are in a low-risk group. These precautions are not just to avoid getting infected or spreading COVID-19, but to avoid over-burdening our healthcare system during this situation.  Maintain distance from others, cough into your elbow, wash your hands often, and try to avoid touching your face.
THANK YOU for your patience, understanding, and for everything that you're doing to help – whether you're at home working, on stand-by, or on the frontlines.  ALL OF YOU are necessary and play a role in helping provide and maintain important services to New Brunswickers.  As this continues to evolve, it's absolutely essential we work together to protect each other and to maintain the services that we all rely on.
In solidarity,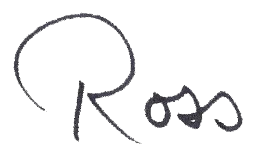 Ross Galbraith
Business Manager
---