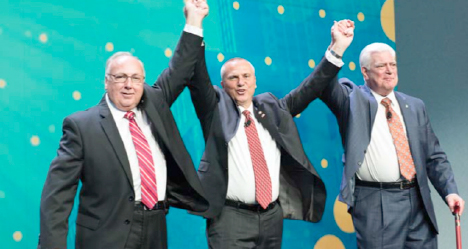 At the opening of the 39th IBEW International Convention, Lonnie Stephenson was unanimously elected the IBEW's 17th International President.
International Secretary-Treasurer Salvatore "Sam" Chilia was re-elected; and New York City Local 3 Business Manager Christopher Erikson was chosen to be the Chairman of the International Executive Council.
Both appointed in 2013, First District International Vice President, Bill Daniels, and International Executive Council Member for Canada, Ross Galbraith, were elected to their respective postions by the Canadian Delegates.
Congratulations to all of our elected Officers!
For more convention news, click here.